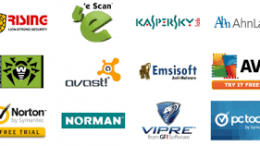 When you have a computer, it is very important to protect your computer and your files from viruses that are all over the Internet. But how do you choose the anti-virus software that is right for you? Here are some steps, provided by Rob Smith from Dev4 – a leading software development company in Aberdeen, Scotland –  that you can take to find the right anti-virus program for you and for your computer.
The first thing that you have to do is figure out if your computer already has software for security on it. Very often you will find that you are able to upgrade to the latest version by taking time to download files or even requesting a DVD to be sent in the mail to you. If you have it already, contact the software provider through email or telephone.
The second thing that you want to do when you are choosing an anti-virus program is to get to know your computer. You want to know what versions of hardware are going to work with the different anti-virus programs. It helps to do some research online and find out what products are better than the others for your computer.
The third thing to do is to get an anti-virus program that will include either anti-spam or anti-spy ware features, since this is going to increase your protection. You will find that this will give you several good advantages and fewer headaches.
Fourth, if you cannot decide which one you should choose, look online for the reviews of the different anti-virus software that you are considering and see what other people think about them. Often times most users will rate the different anti-virus software by the protection, ease of use and what they liked and did not like about
…